And it's "steamy" outside. We have both been making messes in our respective work areas getting ready for the Craftsmen's Fair which kicks off in a couple of weeks, Friday the 19th to be exact. There never seems to be enough time. Randy got to take a short weekend turning course with one of the worlds top turners, David Ellsworth. He was so thrilled at the opportunity and I was happy for him.
But just to let you know that everything doesn't work out perfect, here are some of the "projects" from that course.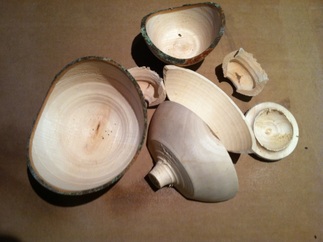 It takes a bit of sawdust and shavings to develop into something of beauty.