Antler Pens

Materials do not get much more unique or "natural" than Antler.
We utilize the "shed" antlers from deer and elk and turn them on the lathe to make the shape comfortable to your hand but we leave the character of the materials.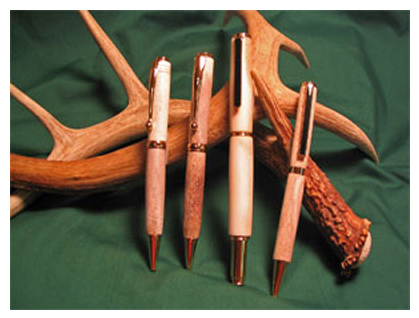 Styles and Prices -

Individual Pens

Cross Style Slim Pen or Pencil
Parker Style Click Pen or Pencil
Rollerball Pen
Fountain Pen
Big Pen (Parker Refill) Pen or Pencil


$35.00 each
$40.00 each
$50.00 each
$60.00 each
$50.00 each

Pen & Pencil Sets

Cross Style Slim
Parker Style Click
Big Ben


$55.00 set
$60.00 set
$85.00 set

All sets include either a leather or velvet covered gift box. Every pen comes with a card that indicates the material utilized, the refill style and instructions on refilling your pen.

*No animals are harmed in acquiring our antler.
All of the antler we use come from sheds that are dropped by the animals annually.
We purchase our antler through the Scouts that are allowed to collect
and sell them to raise money to support their programs.