Shadows of the Bear

Black bears are the iconic symbol of the Great Smoky Mountains National Park. We are inspired by the wildlife who make their homes around us. Of course we have attempted to represent and immortalize them in some of our handiwork.
Either as a custom feature or an accent these shy and beautiful creates can grace your home in glass.



Winter's First Touch


Our beautiful mountains transitioning from Summer through Autumn into Winter with a dusting of snow on the highest peaks. In the foreground is our "Shadow" bear.
Even though this piece was custom built and installed locally, it has become our signature piece and will continue to inspire a segment of our work. Let us create one to fit into your home.
*Custom - Sevierville, Tn.



Early Spring in Cades Cove

The beauty of Cades Cove in summer is represented here with our family of bears, the rolling mountains and a fore ground filled with flowers. Completed with a representation of one of the beautiful churches in the distance.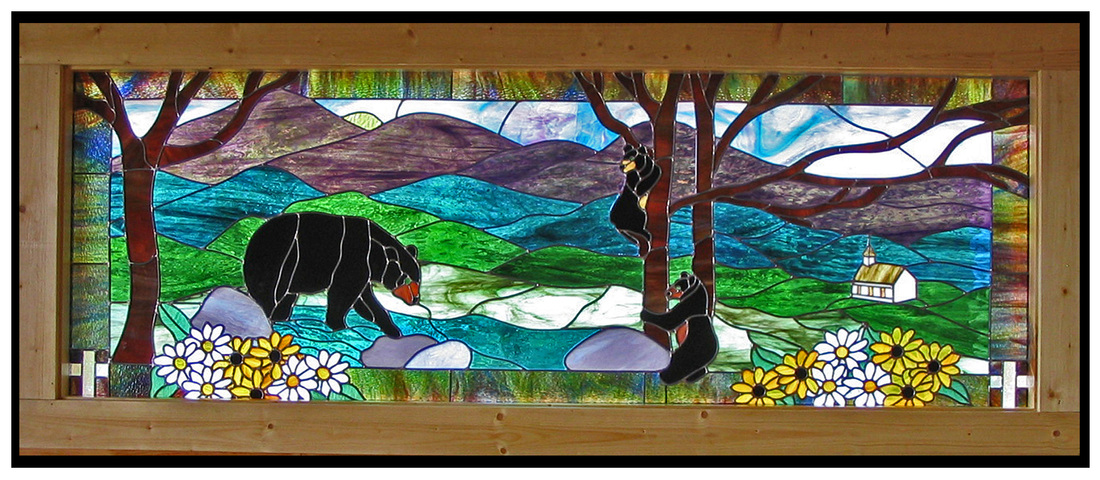 This was custom design for a Gatlinburg home and is approximately 6 feet wide by 2 1/2 feet tall.

*Remember that since we design and craft each piece of
stained glass ourselves, we would be thrilled to re-size
or re-shape any of our designs to fit into your home.